やぶさめ復活の実話を基にした
バイリンガル絵本!
地域の伝統文化の価値を再発見できる絵本
「馳け巡る」は、これからの世代を担う
子どもから大人までがたのしめる
バイリンガル(日/英)絵本です。
価格2,420円(税込)
ご購入はこちら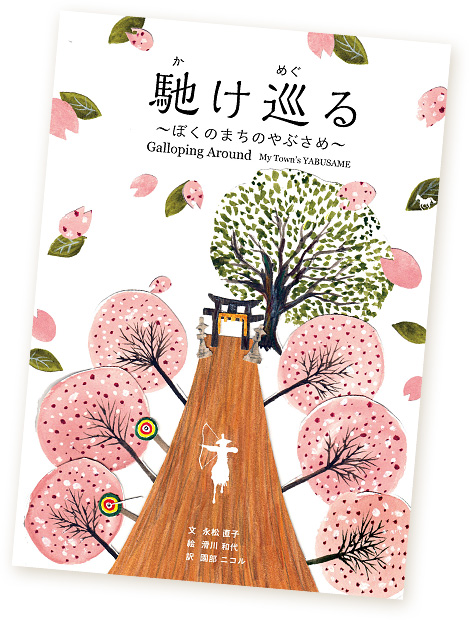 【あらすじ】
ながらく途絶えていた佐賀県江北町上小田にある小さな神社「天子社」の流鏑馬。 様々な巡り合わせを重ね、2014年10月、144年ぶりに復活しました。 主人公そうまが祖父とやり取りする少年時代。空白の144年を乗り越え、復活した意味とは。 ときに、江戸時代へタイムスリップしながら、また、時代が変わっても変わることのない佐賀の自然の美しさにも魅了されながら、 流鏑馬復活劇を疑似体験してみませんか。
「無名の引退馬がやぶさめの継承と絵本で、活躍できる未来を創りたい。」へのご支援、ありがとうございました!
コロナ禍でイベント等の自粛が重なった2020年春、私たちは「絵本の制作」「馬場兼練習場の整備」を企画致しました。
佐賀県の支援、ならびに、クラウドファンディングも活用させていただき目標額を達成! おかげさまで、ふたつの夢を叶えることができました。
ご支援いただいた全国各地の皆様、発信にご協力をいただいた多方面の皆様に、心より感謝申し上げます。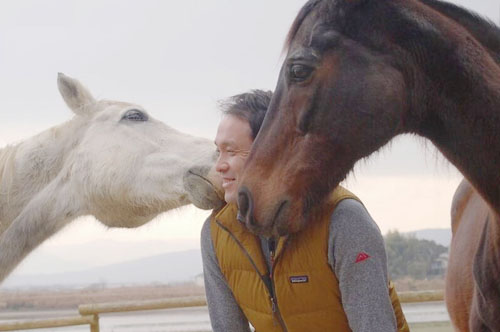 A bilingual picture book based on a true story portraying the revival of YABUSAME
A picture book that rediscovers the value of local traditional culture, 'Galloping Around- My Town's YABUSAME' is a bilingual (Japanese/English) picture book that can be enjoyed by children and adults who will be responsible for generations to come.
Price 2,420 yen (tax in)
Click here to purchase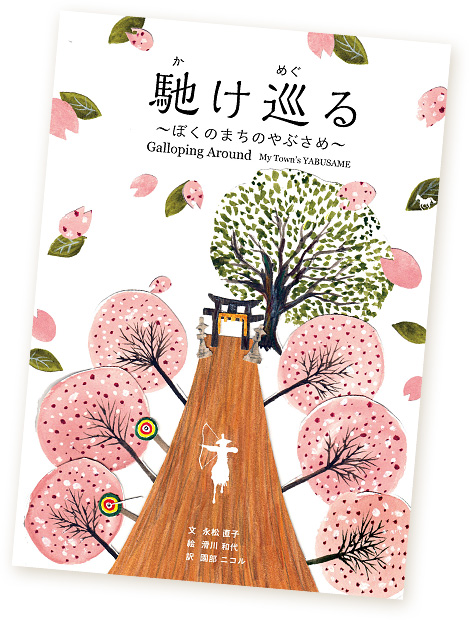 [Synopsis]
The YABUSAME that was held at a small shrine, Tenshisha (Oda, Kouhoku Town, Saga Prefecture) disappeared. In October 2014, it was revived for the first time in 144 years. The story highlights the boyhood of the main character, Souma, who spends time with his grandfather. What is the meaning of the revival after 144 years of blank? While traveling back in time to the Edo period, and while being fascinated by the natural beauty of Saga that has not changed through the years, why don't you experience the YABUSAME revival through this book?
Thank you for your support for "Building an active future by carrying on the tradition of YABUSAME through forgotten retired race horses and a picture book" crowdfunding!
In the spring of 2020, when the corona pandemic resulted in the cancellation of events, we planned the publication of a picture book and the maintenance of the riding ground.

With support from Saga Prefecture and crowdfunding, we were able to achieve the target amount! We were able to see two dreams come true!

We would like to express our heartfelt gratitude to people from all over Japan who supported us and to everyone in various fields who cooperated in the fruition of this project.